In the movie Apollo 13, Ed Harris, playing NASA Flight Director, Gene Kranz, yells out to the control room: "Failure is not an option!"
That movie tagline "Failure is not an option!" has since been used by U.S. Presidents, Senators, Congressmen - and maybe even your boss - to attach an imperative to goals and plans.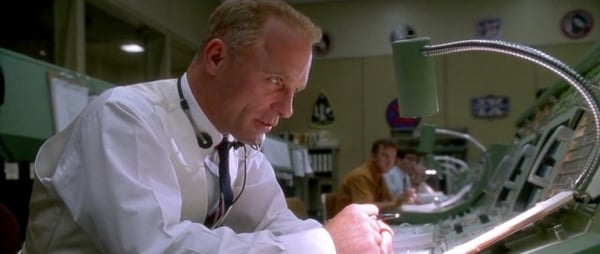 In reality, according to Jerry C. Bostick, Flight Dynamics Officer for Apollo 13, Kranz never used that phrase.
"The script writers, Al Reinart and Bill Broyles, came down to Clear Lake to interview me about what the people in Mission Control are really like," Bostick recalls. "One of their questions was whether there were times when everybody, or at least a few people, just panicked. My answer was no, when bad things happened, we just calmly laid out all the options, and failure was not one of them."
From that interview came an inspiring movie scene. When all the scientists, engineers, and managers at NASA were scrambling to figure out a way to bring astronauts Jim Lovell, Jack Swigert, and Fred Haise home in their crippled spacecraft, we're pretty sure nobody piped up and said: "Well, screw it. Those guys are toast!"
We're also sure that they devised several possible solutions to each problem in case the first one didn't work.
God bless Ron Howard and Tom Hanks but yelling out movie taglines is no way to run a government or a factory.
Managing Failure
Success is usually easy to manage. But even in the happy position of having sold out your product with customers clamoring for more, you will face challenges. Expansion, hiring, permitting, and many other things associated with increasing production suddenly become urgent.
These challenges can be large, and you may have to do them uncomfortably quickly. Expansions can be hard, but the difficulty pales in comparison to managing failures such a poor plant startup or a factory closure.
4 Keys to Avoiding Failure at a Startup Operation
If you are charged with starting up a new operation, it's important to understand that failure is an option. We've found the following guidelines helpful in keeping the risk of failure to a minimum:
Scope – Ground Zero
Welcome to Gilligan's Island! No phone, no lights, no motor cars, not a single luxury. At a startup operation, you may quite literally be faced with this scenario. A new facility might not have an IT network, copying machines, or even pens and pencils. Make an assessment, purchase the basics, and build from there. Remember that nobody is around to do it for you.
But it Works in the Lab…
Sure, it works in the lab but that doesn't mean it will work first time in your brand-spanking new factory. You will fight many battles during a plant start-up, but the battle to convince your R&D team and top leadership to take scaleup issues seriously will be one of the most difficult. The best way we know of convincing R&D teams that production processes are not directly scalable is to show them data, data, and more data.
Develop a Strong Support Network
You don't have to do this alone, but you will find yourself that way unless you understand the need for a solid network. The startup experience is intense and there will be little time to figure it out as you go. You need places to find answers and resources. Strong relationships with your suppliers, the chamber of commerce, and local economic development groups are valuable candidates. Don't forget internal resources, either. The homegrown supervisor you just hired to run a production sequence might be just the person to find you a fabrication shop or a contract welder.
Have an Exit Strategy
Despite giving your heart and soul to the startup company, making sound decisions, and bleeding the company colors, you still might not be able to make it work. Discontent grows rapidly in this bitter soil and you must recognize the impact on your effectiveness. Stay alert and understand that results compared to the business plan should determine your exit, not your emotions.
In Conclusion
In startup operations, like no other, John Maxwell's principal of "Everything rises and falls on leadership" is paramount.
Managing a startup requires an entrepreneurial spirit, high levels of skill and inner resources, and a high tolerance for risk.
You will also need a strong sense of autonomy, self-control, and optimism.
You may fail, but you will become more resilient with that failure and be better prepared for what the future will bring.
If others around you have not yet had the privilege of failing, be warned! Your experience will be even more critical to the success of the new operation and without it the firm has a high probability of failure.
Image Credit: Apollo XIII official trailer, Universal City Studios, Inc.